The Condition of Man
Presenting The Christian Message
Aspect #2 of the Christian Message
God originally created man in His own image and had wonderful fellowship with him. He longs to fellowship (go swimming) with us but because of our sin and impurity, He has to separate himself from us. Scripture tells us about this:
Surely the arm of the LORD is not too short to save, nor his ear too dull to hear. But your iniquities have separated you from your God; your sins have hidden his face from you, so that he will not hear. —Isaiah 59:1–2
God's Word is clear about the condition of man, saying, "for all have sinned and fall short of the glory of God" (Rom 3:23) and "The heart [of man] is deceitful above all things, And desperately wicked; Who can know it?" (Jer 17:9 NKJV).
The Root Problem
The root problem in man is sin. Sin, in its most basic state, is rebellion. It is refusing to submit to God's authority (play by His rules). When man rebelled against God, he began to make up his own rules to live by. As a result, many false religions and philosophies have been invented. This is simply man's way of covering up a guilty conscience so he can feel good about pursuing selfish desires. It is self-deception.
The apostle Paul warns us not to be deceived. He makes it clear that the wicked will not inherit the kingdom of God. He says, "Do not be deceived: Neither the sexually immoral nor idolaters nor adulterers nor male prostitutes nor homosexual offenders nor thieves nor the greedy nor drunkards nor slanderers nor swindlers will inherit the kingdom of God (1 Cor 6:10).
Someone might read this list of sins and say, "I haven't done those things!" But maybe they have. Jesus said that if a man even looks on a woman with lust, he has already committed adultery in his heart. What about coveting (desiring something that belongs to someone else)? That is idolatry (see Col 3:5). What about using abusive or vulgar language, or stealing? You see, no one is innocent.
Do you think this is being too picky? Remember this, the issue isn't how big or small our sin is; the issue is how pure or holy God is. Any sin compared to His holiness is unacceptable.
Our True Color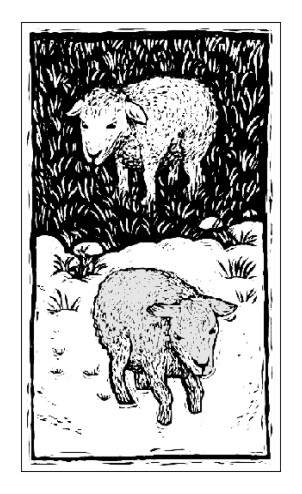 Someone once told a story about sitting on a hill watching a flock of sheep grazing in a green pasture below. Against the beautiful green grass the sheep appeared to be pure, clean and white. Then it began to snow. Gradually, the green grass was covered with pure white snow. Then the man realized that the sheep were not as clean as he had originally thought. Now they looked dingy and dirty against the freshly fallen snow. Had the sheep suddenly become dirty? No, the man simply had a pure standard against which to judge their color.
Understanding the holiness and purity of God helps us see our own true color or condition. Oh, yes, we can always find someone who is more dingy and dirty than ourselves, but that doesn't make us any cleaner. Comparing ourselves to others who are more dirty than we are is simply self-righteousness. The apostle Paul said, "We do not dare to classify or compare ourselves with some who commend themselves. When they measure themselves by themselves and compare themselves with themselves, they are not wise" (2 Cor 10:12).
Everyone has sinned. All have fallen short of God's standards of holiness. "As it is written: 'There is no one righteous, not even one'" (Rom 3:10). Eventually, everyone will stand accountable before the Holy God and be judged according to His unchanging law.
As you can see, the first two aspects of the Christian message presents man with quite a dilemma. God, the holy judge of the universe, will one day judge all that is impure. Try as we may, we have no ability to cleanse ourselves or free ourselves from sin. But there is good news. God has a solution to our dilemma!
Review/Discussion
What has separated man from God?
What is sin in its most basic form?
How has man tried to cover up his guilty conscience?
There was a man who thought he was acceptable to God because he lived more righteously than any other person he could find. All his friends considered him to be the most honorable person they knew, as well. Why is this man in danger?
What are the first two aspects of the Christian message?
Next: Aspect #3: The Redeeming Work of Christ